Klaus & Sons Serving the Inland Empire Since 1973
Klaus & Sons has provided quality plumbing, heating and air-conditioning services to the Inland Empire and Pomona Valley since 1973. Our customers can expect an exceptional experience from the moment our friendly customer service representatives answer the phone. Factory-trained, licensed technicians with fully-stocked service vehicles provide guaranteed quality service on every installation and repair.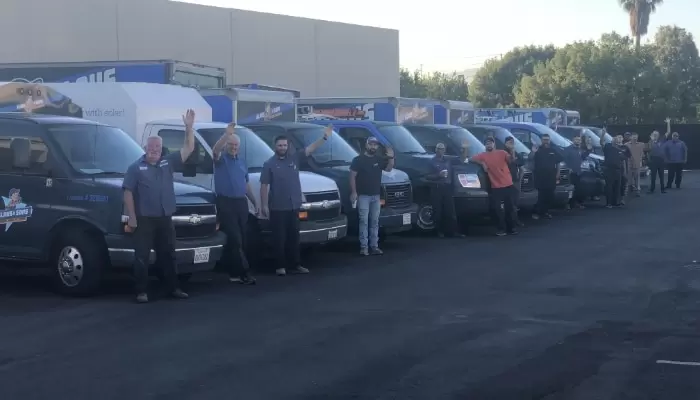 Why Choose Klaus & Sons?
We offer 24-hour experienced plumbers and HVAC technicians to serve you in emergencies, as well as being able to troubleshoot, maintain and repair your systems before they become problems. Our professional equipment repair and installation practices ensure 100% customer satisfaction. We are continually investing in state-of-the-art technology and training to exceed our customers' expectations.
Klaus & Sons is well-known in the community for our exceptional service, integrity and understanding of customer needs. We strive to provide every service, repair, maintenance and installation that may be needed in any situation. Klaus & Sons is also committed to on-the-job safety and security for every job. We offer 100% customer satisfaction guarantee, so you have peace of mind when making important decisions.
Licensed by the California Contractors License Board #320990
What areas do you serve?
Located in Montclair, CA, we serve the Inland Empire including:
Alta Loma • Azusa • Charter Oak • Chino • Chino Hills • Claremont • Diamond Bar • Fontana • Glendora • La Verne • Montclair • Ontario • Pomona • Rancho Cucamonga • San Dimas • Upland • Walnut
Are you fully licensed and insured?
Absolutely! We are fully insured and registered to do business in California. Our state license number is #320990. We have fully licensed plumbers and licensed HVAC technicians who participate in ongoing training.
You can be sure that when you call for an air-conditioning repairman, plumber or any HVAC service technician they are fully licensed and insured.
What are your certifications?
Our team of air-conditioning repairmen and HVAC experts at Klaus & Sons Plumbing Heating & Air Conditioning in Upland works hard to offer the finest heating and cooling service around. One of the ways we sustain our expertise and continue to build knowledge about HVAC products is by earning industry certifications. Discover more about the certifications our experts have received below.
Why Do I Need A Licensed Contractor?
Licensed contractors, plumbers and HVAC service technicians are essential when choosing a company. New air-conditioners and other HVAC systems, whole house re-piping our big jobs and are viewed as an investment that the homeowner putting into his or her home.
Klaus & Sons Plumbing Heating & Air Conditioning technicians are fully licensed, insured and trained.
Unlicensed contractors put their own clients at risk someone is injured on the job. Supervision, ongoing training and a strong, stable, insured, licensed contractor protects you and your investment in your home. Klaus & Sons is fully licensed and trained so that you know that your investment and home are safe in our hands.
Our 100% satisfaction guarantee ensures that local plumbing and HVAC customers are going to get the job done right. We've learned from experience that some consumers have been burned by unlicensed contractors who don't finish a job or do it correctly. We've been called too many times to count to repair a job that was done incorrectly.
He's not accountable to anyone. he just laughed at me.

-Allison Sachs, homeowner who used a non-licensed plumber
Allison's experience is a common problem faced by contractors who fail. Seeking reimbursement is time-consuming and costly. Licensed plumbers and licensed HVAC technicians with experience in their local community can save a homeowner thousands of dollars and needless headaches.
By going with Klaus & Sons you know we are just not simply following the law but complying with permit and inspection requirements, making sure your job is up to code. Warranty claims will be honored and job the piece of mind that there will be no surprises when you go to sell a property.
NATE is North America's largest non-profit heating, ventilation, air conditioning and refrigeration certification organization. NATE certified technicians perform excellent installation and maintenance on your heating and cooling systems. These technicians have proven their knowledge in the HVAC specialty areas including:
Air Conditioning
Air Distribution
Heat Pumps
Gas Heating
Oil Heating
Hydronics Gas
Hydronics Oil
Ground Source Heat Pump Loop Installer
Senior HVAC Efficiency Analyst
Dave Lennox Premier Dealers™ are specially trained and independently evaluated on an ongoing basis to offer a higher level of customer service. As a Dave Lennox Premier Dealer™, our team in Upland has partnered with Lennox®, a top name in home comfort, to carry some of the most innovative and energy-efficient heating and cooling products in the industry. To keep "Premier" status, Klaus & Sons Plumbing Heating & Air Conditioning participates in an independent Customer Review program that encourages our clients to honestly rate our performance so we can make sure our staff continuously is meeting or exceeding the highest standards for quality service.
Klaus & Sons Plumbing Heating & Air Conditioning is a member of the Better Business Bureau. That means we abide by ethical business behaviors and provide trustworthy information to our customers. We have a good rating and are proud to be part of this organization.