HVAC Repair & Installation Experts Near Upland, CA
Local climate change has altered California's dependence on air-conditioning systems. Klaus & Sons provides high-efficiency HVAC system repair or replacement. We help you keep your heating and air conditioning units running at peak performance and help you lower your utility bills.
Our licensed (CSLB 320990) technicians provide expert HVAC freon charging, circuit board replacement, blower motor repair, thermostat installation and many other services to keep your system running perfectly.
Klaus & Sons installs quality Lennox heating and cooling systems. Lennox offers the best in energy-saving technology that significantly helps reduce heating and cooling bills. Our factory-trained technicians have confidence in the durability and performance of our systems.
To learn more about Lennox products follow our link here. To get more information about financing options, you can explore their simple financing website at Lennox Buyers Guide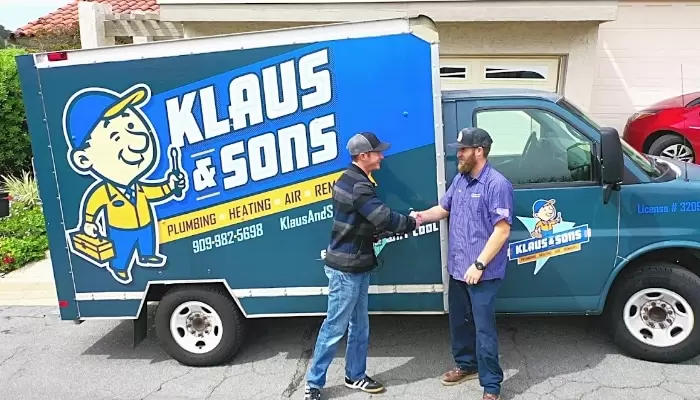 Air Conditioning Services
Local businesses and homeowners understand that central air conditioning systems are extremely important in an area known for its long, hot summers. Our highly trained HVAC technicians can meet all your basic air conditioning service needs quickly and get you cool down fast!
We can service any AC system in your home or business and get you up and running again quickly! Inland Empire homeowners know they can trust Klaus & Sons for fast, reliable air conditioning repair. We service most of the major air-conditioning system brands including Honeywell, Bryant, Rheem, Tran, Day & Night, Lennox, York and others.
Klaus & Sons can install a high-efficiency air conditioning system in your home or business that can help lower your utility bills while providing maximum comfort.
Air Conditioning Maintenance
Maintaining your AC system is important. You can call on our service team to help you maintain your air conditioner's components to help it run smoothly throughout the year.
Heating Services
Klaus & Sons won't let your heating system let you down. We offer full home and business heating services throughout Montclair and Upland.
Klaus & Sons can troubleshoot and repair any furnace or heat pump system. Count on our expert service to help you immediately solve heater breakdowns. We promise not to leave you out in the cold!
Our trained technicians can analyze any space and make sure that you have a system that meets your needs and is energy-efficient. We can replace furnaces and heat pumps and find solutions for any local heating system problem.
Heater Maintenance
Why wait until you have a problem to call Klaus & Sons. We perform routine heater maintenance that can help you avoid costly problems and increase your system's efficiency. Lower utility bills are important to our customers. Let us find ways to give you maximum comfort with the most efficient heating system. We inspect ductwork for leaks, dirt and insulation problems and make sure that thermostats are calibrated properly. Cleaning air filters, inspecting burners, cleaning the return air grill and checking the condition of electrical wiring are just a few of the maintenance tasks that we perform to keep your system working at its best.
Professional HVAC Tune-Ups
Klaus & Sons provides complete precision tune-up and professional cleaning as described below for your local heating and/or air conditioning equipment system needs.
Benefits:
Meets manufacturer's warranty requirements.
Extended equipment life.
Fewer repairs.
Priority customer status.
Lower utility bills.
Our Precision Tune-Up Includes:
Clean and adjust burner assembly.
Clean ignition assembly.
Clean heat exchanger or elements.
Monitor flue draft.
Monitor refrigerant pressure.
Test starting capabilities.
Clean or replace air filters.
Clean and adjust blower components.
Measure for correct airflow.
Measure volts and amperage.
Lubricate all moving parts.
Tighten electrical connections.
Clean condenser coil.
Clean condensate drain.
Measure temperature difference.
Your Local HVAC Experts
Contact the heating and air pros at Klaus & Sons today at 909-982-5698 for all of your home AC and furnace needs.