Expert Furnace Repair For Homes Near Montclair & Upland, CA
Klaus & Sons can help with all your home heating repair needs. We can troubleshoot and repair all major brands of heaters, furnaces or heat pumps. Our fully licensed, bonded and insured technicians carry a wide variety of parts so that most repairs can be made quickly. In addition, our technicians always offer a 100% guarantee on every service to ensure you stay warm and cozy for years to come. Contact Klaus & Sons now for the best furnace repair contractor in the Montclair area!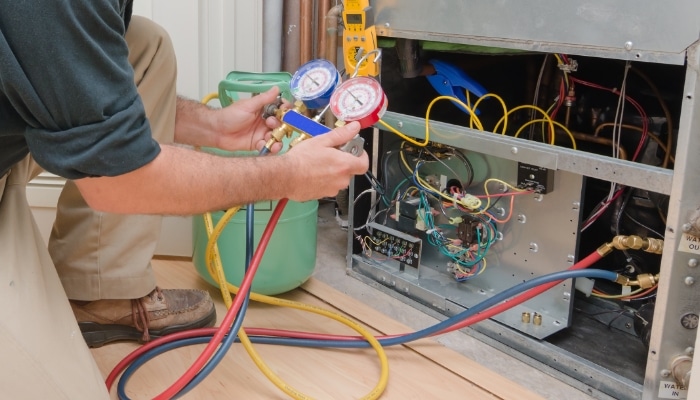 What Do I Do If My Furnace Goes Out?
If your furnace goes out, the first thing to do is check your thermostat. If it is set to "emergency heat" or "off," then turn it back on. If it is set to "heat," check your breaker box to see if the breaker for your furnace has tripped. If it has, flip the breaker back on. If your furnace still does not turn on, contact a professional for heating repair services.
Klaus & Sons is the leading provider of furnace repair in Montclair, CA. We have been servicing furnaces and heaters in the Inland Empire for over 40 years. Our experienced technicians are available 24/7 to provide you with the best furnace repair and installation services in the area. Contact us now for a free estimate!
Common Heating System Problems
There are a few common problems that can occur with heating systems you can fix yourself:
Clogged Air Filter - The most common issue we see is a clogged air filter. A clogged air filter will cause your furnace to work harder to circulate air and can eventually lead to system failure.
Pilot Light - Another common problem is a pilot light that has gone out. If your pilot light goes out, you will need to relight it according to the instructions in your furnace's manual.
If you are having any other problems with your furnace or heater, contact Klaus & Sons for heating repair services.
Reliable HVAC Contractor in the Upland Area
With over 40 years of HVAC experience in heater and furnace repair in the Inland Empire, our technicians provide heating repair services you can depend on.
Our service includes checking and calibrating the thermostat, examining all electrical wiring, ensuring gas pressure and venting are sufficient, cleaning or replacing air filters and much more. We will thoroughly inspect your heating system to make sure it is running at peak efficiency. We put safety first, so you can rest assured that your unit is properly sealed, adjusted and tested at every step. Call us today at 909-982-5698 for fast, reliable furnace repairs!