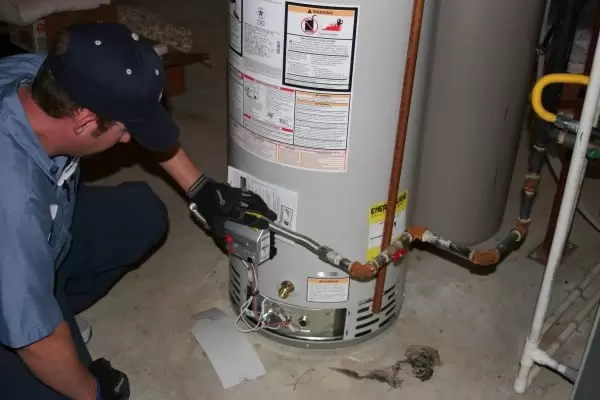 Water heating is the second largest energy expense in your home and typically accounts for about 18% of your utility bill. Keeping your local water heater on a yearly maintenance schedule saves money and prevents days without hot water.
Klaus & Sons recommends four ways to use less hot water: turn down the thermostat on your water heater, insulate your home or business hot water pipes, install hot water recirculating systems and install a new more efficient water heater. Installing a new energy-efficient water heater will return immediate energy savings. Installing natural gas on-demand or tankless water heaters, which heat water directly without using a storage tank, provide energy savings up to 30% compared with standard natural gas storage tank water heaters. You can also lower water heating costs by wasting less hot water in your home or business. To conserve hot water Klaus & Sons suggests repairing leaks, installing low-flow fixtures, and installing an energy-efficient dishwasher and clothes washer.
Tired of water heater repairs?
Why You Should Consider a Tankless Water Heater
A tankless water heater consists of an internal burner that instantly heats water as it is used in the home or building. Tankless water heaters continue to grow in popularity for a number of reasons:
Tankless water heaters are energy efficient – Because tankless water heaters have no pilot light and do not re-heat water, they use less energy than both a gas and electric-powered conventional water heater. Your heating bill can be dramatically less with a tankless water heater.
Instant hot water that never ends with a tankless unit – Since water is heated as it used, there is never a shortage. If you have a large family or use a lot of hot water at particular times during the day, this is great news. Think of how nice it would be to take a hot bath while other family members are showering.
Tankless water heaters are space savers – Tankless water heaters are far more compact than a conventional water heater and can be wall mounted, either indoors or out. Conventional water heaters often require a separate cabinet or closet space.
Tankless water heaters are durable – Tankless water heaters can last for up to 20 years. Conventional water heaters need replacing after 10 to 12 years.
Learn more about Klaus & Sons'  tankless water heater products.
KLAUS & SONS SERVICE AREAS
FREE ESTIMATES FOR ALL YOUR PLUMBING, HEATING & AIR CONDITIONING SERVICES
Alta Loma • Azusa • Charter Oak • Chino • Chino Hills • Claremont • Diamond Bar • Fontana • Glendora • La Verne • Montclair • Ontario • Pomona • Rancho Cucamonga • San Dimas • Upland • Walnut