Expert Broken AC Services For Upland Area Homes
For fast, reliable air conditioning repair services for your Montclair, CA home, you can count on the expert technicians at Klaus & Sons. In the Inland Empire, reliable air conditioning repair is something that we can't live without. Our team of licensed professionals will come to your home to repair your air-conditioning system quickly, providing you with a no-nonsense estimate, no hidden fees, and a clean professional job with a 100% total satisfaction guarantee. Contact us now at 909-982-5698 for your AC repair needs!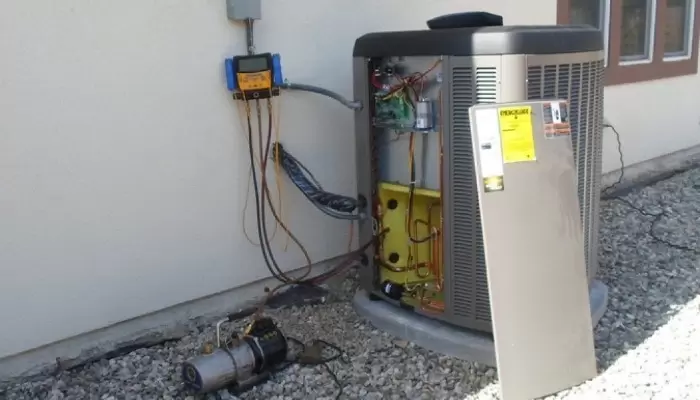 Signs I Need An Air Conditioning Repair
If your home's air conditioner is having any of the following issues, it's time to call in the professionals for an AC repair service:
Poor airflow.
Lukewarm air.
Unusual noises or smells.
High energy bills.
When any of these signs crop up, don't wait to call Klaus & Sons. We'll send out a qualified technician to take a look at your system and suggest the best course of action, whether that's a repair or replacement.
Air Conditioning Repair Service FAQs
How much does it cost to fix a home AC unit?
The average cost to fix a home AC unit near Montclair, CA is around $350.
Simple fixes, such as replacing a clogged air filter or adding refrigerant, may cost a few hundred dollars. However, more complex repairs, such as replacing the compressor or evaporator coil, can cost upwards of $1,000. It's important to hire a licensed and experienced HVAC professional to perform any AC repairs to ensure safety and compliance with local building codes. It's also recommended to obtain multiple quotes to compare prices and ensure a fair and competitive price.
Why is my home AC unit constantly running but not cooling my home?
There are several reasons why a home AC unit may be constantly running but not cooling properly.
One possibility is that the air filter is dirty or clogged, which can restrict airflow and reduce the cooling efficiency.
Another possibility is that the refrigerant level is low, which can cause the AC to work harder without producing enough cool air.
Other potential causes include a faulty thermostat, a malfunctioning compressor, or a leak in the ductwork.
It's important to have a licensed and experienced HVAC professional inspect and diagnose the issue to ensure proper repair and avoid further damage to the AC unit.
How do I know if my AC condenser is blocked?
If your AC unit is not cooling properly, one potential cause may be a blocked condenser. Signs of a blocked condenser may include reduced airflow, strange noises or vibrations, and ice buildup on the AC unit or refrigerant lines. Additionally, a visual inspection may reveal debris, leaves, or other obstructions around the exterior of the condenser unit. It's important to hire a licensed and experienced HVAC professional to diagnose and repair any issues with the AC unit to ensure its proper functioning and prevent further damage.
How Can I Prevent My AC From Breaking Down?
There are a few things you can do to keep your air conditioner in top shape and prevent it from breaking down:
Schedule regular maintenance check-ups: Just like your car, your AC system needs regular tune-ups to keep it running properly. We recommend having a professional check-up at least once a year.
Clean or replace your air filters regularly: This is something you can do yourself! Depending on the type of filter you have, you should be replacing it every few months.
Keep your AC unit clean: Dirt and dust can build up on the coils and other parts of your unit, making it work harder than it needs to. Regularly cleaning your AC unit will help it run more efficiently.
If you need help with any of these tasks, or you think it's time for an AC repair, don't hesitate to give Klaus & Sons a call. We're always happy to help our customers in the Inland Empire keep their homes cool and comfortable!
Your Trusted Air Conditioning Repair Contractor In Montclair, CA
We have NATE-certified technicians on staff, which is the highest certification available in the air-conditioning industry. We can repair every brand of HVAC equipment including Carrier, Bryant, Ruud, Goodman, Amana, Precision, Armstrong, Coleman, Honeywell, Janitrol, Lennox, Payne, Rheem, York and American Standard.
Our well-stocked service trucks carry a huge inventory of parts and materials so many repairs can be taken care of immediately. Call us now to get your air conditioning system running smoothly again once more and your family back to being comfortable!